Study MBA online
For our busiest candidates, we offer a 100% online study that is fully comparable to the traditional combined form regarding the quality of education and the content of the study programmes. Our students can opt for the online version of our study programmes and therefore be able to complete their studies in the 100% online form.
100% online study
The latest form of management education
Flexible, high-quality online learning
Time saving
Study efficiently anywhere anytime
Online library
Basic Study Information
Form:
Modern and effective 100% online study, which completely replaces attending lectures and is totally flexible
Study materials:
Included in the tuition (syllabi, study materials, video lectures, online library, interactive presentations, and bonus videos )
End of study:
Defense of the final thesis
Conditions of admission:
University diploma or experience on a leading or managerial position. Students are accepted without entrance examination.
Start of study:
Anytime according to the needs of the candidates
More study information
Price after discount
(Regular price
5.600 EUR
without VAT)
Apply now
Offered MBA programs
The Business Institut will bring you a study
Graduate references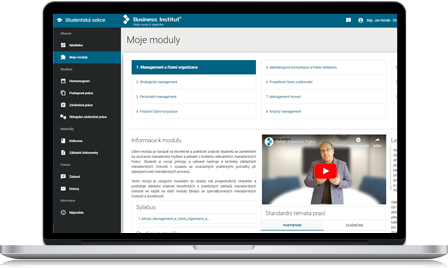 Modern e-learning system with video lectures and online library
Access and study anywhere, anytime
Online study materials, lectures, and videos
Modern, efficient, and comfortable form of study
More than 5200 online books are available
Online communication with trainers and experts
Support of the study department
Why choose a Business Institut
A prestigious school with a high level of teaching
Top team of lecturers
References of successful graduates
Focus on practice
Time flexibility
Individual approach
Choose quality and prestige, study at the Business Institut
Apply now